Skip to Content
Locally-Owned Auto Repair Center
Hansen's Auto Service Center opened in 1984 to provide drivers in the area an honest and affordable auto shop. As a family-owned and operated business, our top priority has always been to ensure our customers are entirely satisfied with our services. Whether you're stopping in for an oil change or need a transmission repair or replaced, we treat each of our customers and their vehicles with the respect they deserve. We've grown relationships with our customer that have gone beyond just fixing vehicles and has allowed us to thrive for over 35 years.
John, his wife Susie, and the rest of the team – Tyler, Mark, Angelo, and Tom – have continued the tradition of providing exceptional customer service. To us, our customers are family! As a second-generation business, we have life-long customers that continue to choose us for a high-quality service, parts, and customer experience. Building relationships is key to learning our customers' needs and providing honest and affordable solutions. Stop n and visit our shop today, and find out why we're the area's premier local auto body shop.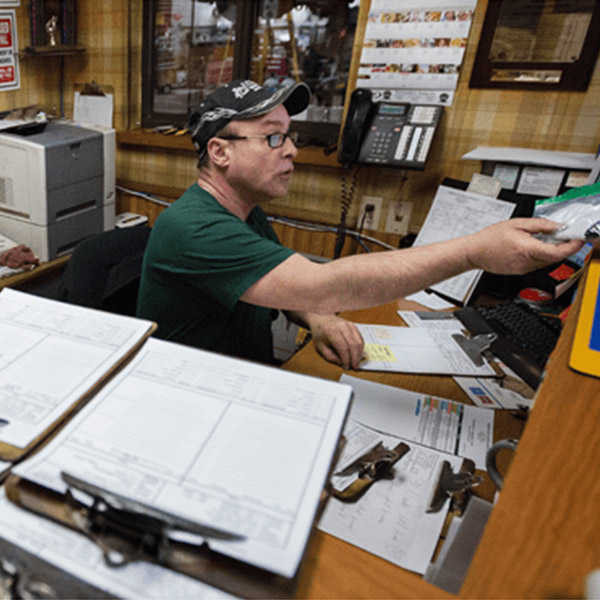 Our Complete Services
Honest and integrity are crucial to earning our customer's loyalty and trust. When you choose us for your auto repair and maintenance service, you can feel confident we'll ensure that your repair is done the first time correctly. As a certified NAPA repair center, much of the work we perform is covered by our NAPA AutoCare Peace of Mind warranty. Our comprehensive warranty covers your repairs for both parts and labor. We can ensure your vehicle repair is completed quickly and accurately with the latest tools and equipment available. Our ASE-certified technicians have the knowledge to work on a wide variety of makes and models, including Toyota, Honda, Acura, Ford, and Chevrolet. Our repair services include:
Vehicle Maintenance – Routine maintenance in accordance with the manufacturer's recommendation is essential for improving gas mileage and performance while also reducing the chance of a costly repair.
Vehicle Repair – Vehicle repairs are inevitable, and our technicians can ensure you get back on the road faster. We have a large selection of in-store parts and, as a NAPA certified auto repair center, we can have necessary parts delivered quickly to our shop.
Madison, WI's Premier Automotive Service Center
Since 1984, Hansen's Auto Service Center has been assisting customers for over 35 years. As a locally-owned and operated auto center, you can always trust us for affordable pricing and honest repairs. Our teams are dedicated to ensuring you're completely satisfied with our service. Contact our team today to schedule your service.
Auto Service You Can Trust!