Skip to Content
Car and Truck Repair by Hansen's Auto Service Center
Since 1984, the experienced technicians at Hansen's Auto Service Center have been providing expert auto repair for drivers in Madison, WI, and the surrounding communities. Our ASE-certified technicians utilize the latest equipment, tool, and high-quality parts to help get your vehicle back on the road. When you choose us for your vehicle repair service, our technicians will listen to your concerns and run a diagnostic to pinpoint exactly what the issue is with your vehicle. We'll then complete the necessary repairs. We pride ourselves on our dedication to customer satisfaction. Contact us today to schedule your repair service and find out if your repair service qualifies for our NAPA AutoCare Peace of Mind warranty.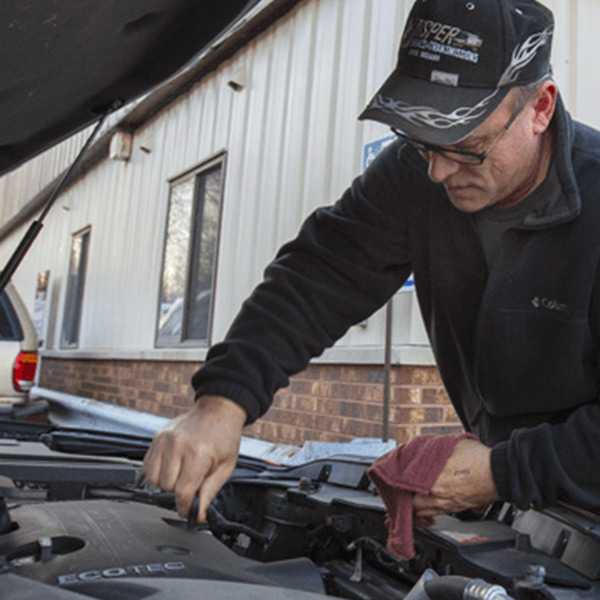 Complete Repair Services for Your Vehicle
As a vehicle owner, it's essential to find an auto repair center that values its customers. At Hansen's Auto Service Center, our team believes in providing you with the best repair service in the area. As your local, full-service auto body repair center, our mechanics have the knowledge and tools to make the necessary repairs on a wide variety of makes and models. We have experience working with Chevy, Ford, Honda, Acura, Toyota, and many more.
Brake Repair
Over time, brake pads and rotors need to be replaced to ensure your vehicle can stop safely. If you notice a grinding or squealing sound, then it's time to bring your car to an auto center.
Engine Repair
Your vehicle's engine is made up of many moving parts that begin to deteriorate the more you drive it. If not properly repaired, you may find yourself stranded without a working vehicle.
Transmission Repair
When you change gears, small metal flakes enter transmission fluid, making it hard to shift gears. Eventually, your transmission will fail, costing you thousands for replacement.
Exhaust System Repairs
Exhaust systems ensure that all harmful gases are properly filtered harmlessly outside of your vehicle. A fault exhaust system can be a health hazard for you and your passengers.
Fuel Injection System Repair
Damaged fuel injectors can cause your vehicle's performance to feel sluggish and unresponsive and lead to dangerous driving conditions.
Air Conditioning Repair
A working air conditioner is essential for a comfortable ride. If your AC is only blowing hot air, bring it to our shop for repair.
Experience the Hansen's Auto Service Center Difference
If your vehicle isn't working correctly, it's essential to bring it to a certified technician for repairs. Ignoring common vehicle issues can lead to dangerous driving conditions and more extensive repair bills down the road. You can schedule your repair service with the experts at Hansen's Auto Service Center. Our team can provide complete vehicle repair services for your car or truck by using high-quality diagnostic equipment and parts for every project. Most of our repair work is backed by our NAPA AutoCare Peace of Mind warranty. Schedule your repair service today to get started.
Auto Service You Can Trust!